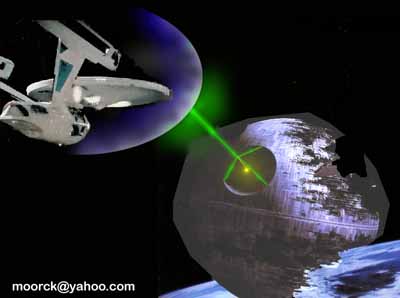 There is an avalanche of ways for participate:
1) any history and image or idea (except those xxx-rated.) they will have published.
you could send me all to this address:
2) putting a link on your page to this site (send me a mail so I can thank you)
3) sends me a lot full of money (joke:)) the initiative is not for the sake of money!!!
Hi to all !!
Alternative science fiction
We see all days long very handsome pages of relentless fan, through Star Trek and Star Wars up to the Galactica and to the Yamato , now what do you think if some of those worlds or for better tell "universes" can meeting?
Can you imagine the deadly "chaos"?
The battle between the good and the evil stay clear, or would new factions be delineated, with new alliances ?
You imagine if for example the Borg attaches the Empire of George Lucas.
Could the Federation, in answer to a request of help, cooperate to the empire and after, what would it happen to the rebellion?